Facilities
The Grand Hall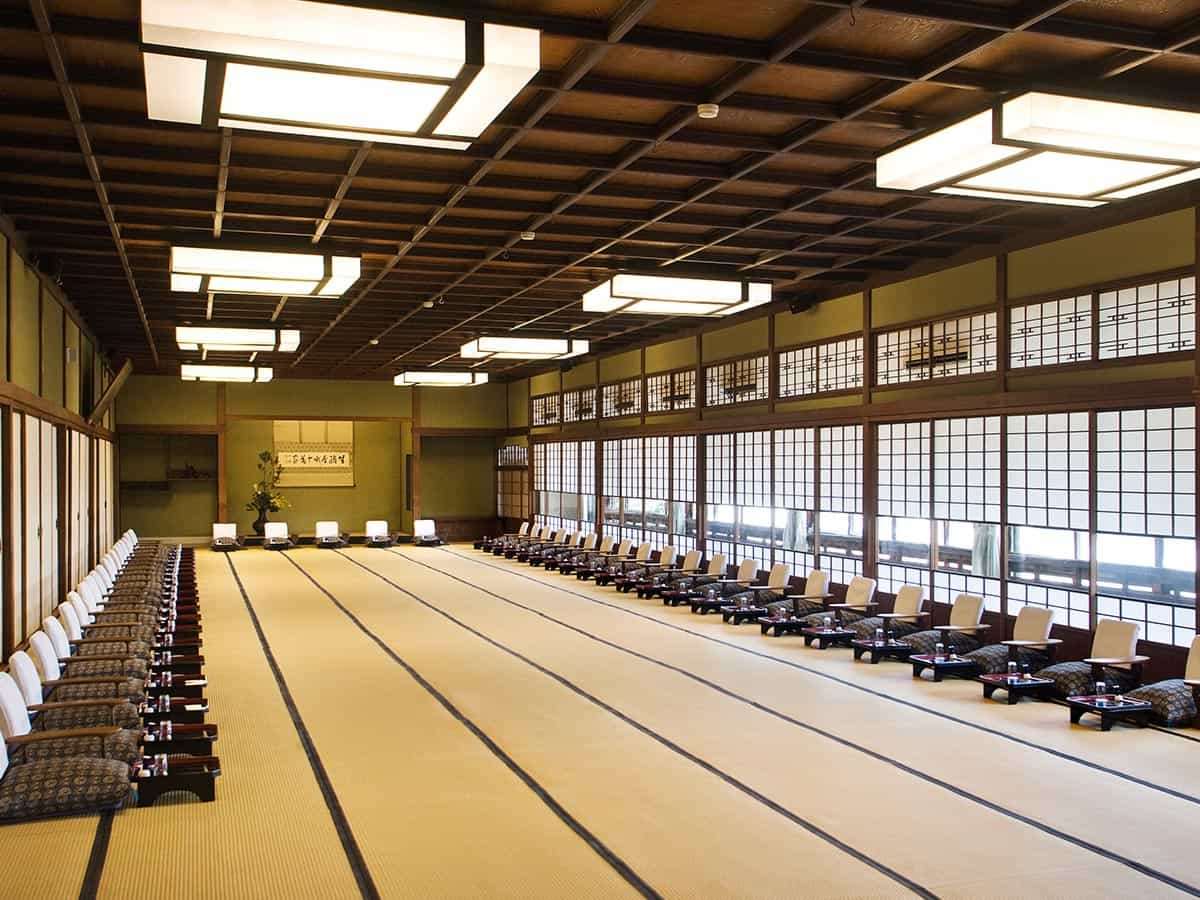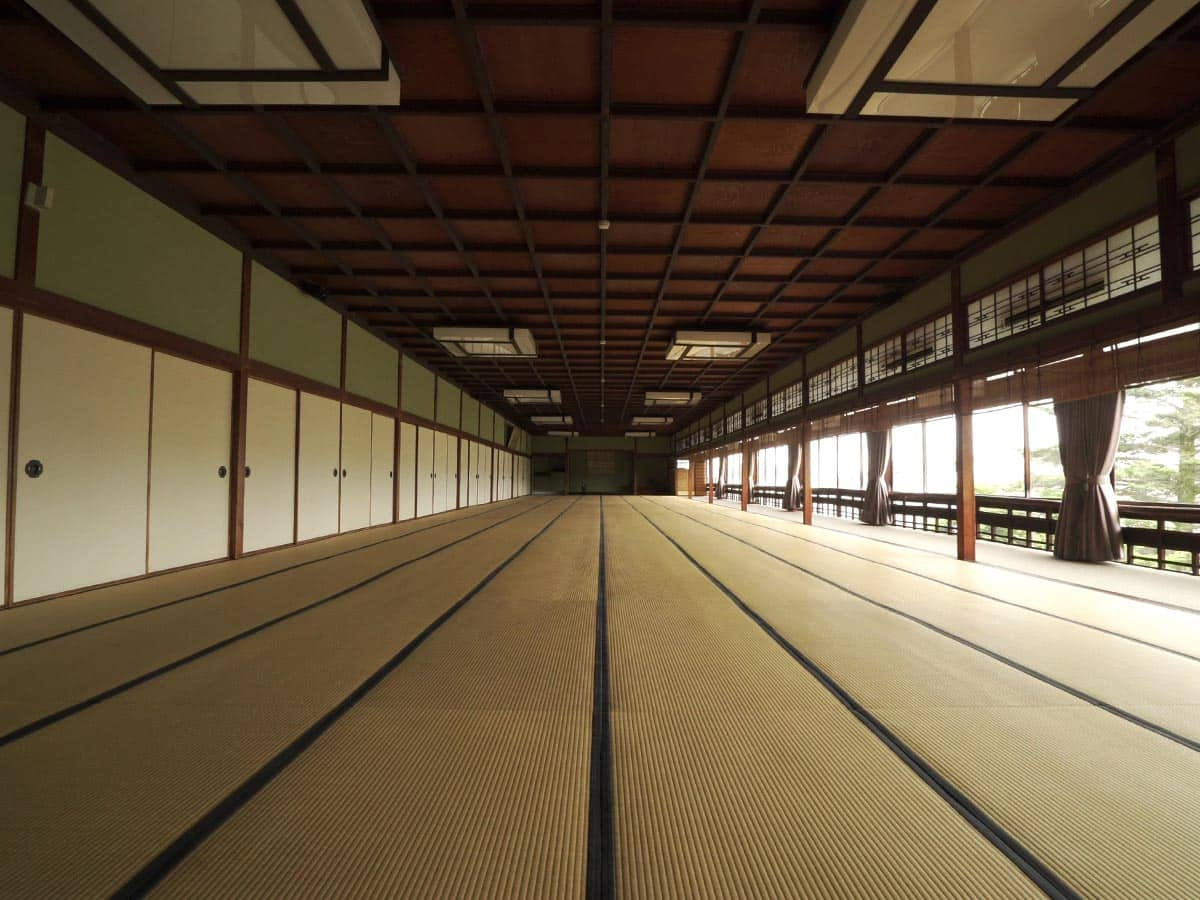 The Grand Hall is a unique large room of 200 tatami mats that can never be reproduced today anywhere in Japan.
The Grand Hall, which was constructed in the Taisho period, has an open space that consists of 200 tatami mats and a finely latticed ceiling. This big hall room has no pillars to support the ceiling, and this building technique can no longer be reproduced in Japan. The room can seat up to 230 guests.  Additionally, this open space can be divided by using our portable performance stage. A scroll with "Tsubajin" written on it hangs on the wall. It was written by Mr. Sanzo Wada, one of the most prominent painters and costume designers of his time. He won an Academy Award for Costume Design in 1954.
Tsurunoma, the Room of the Crane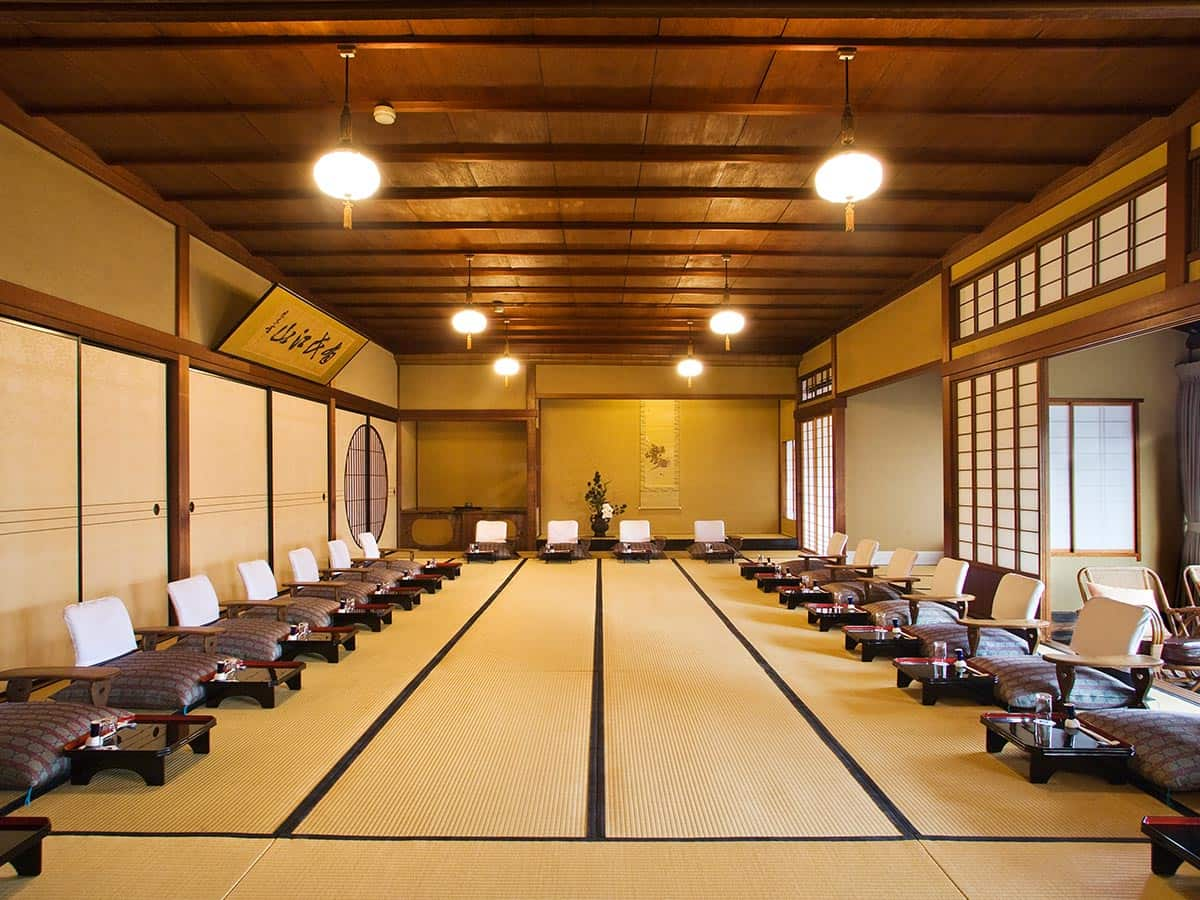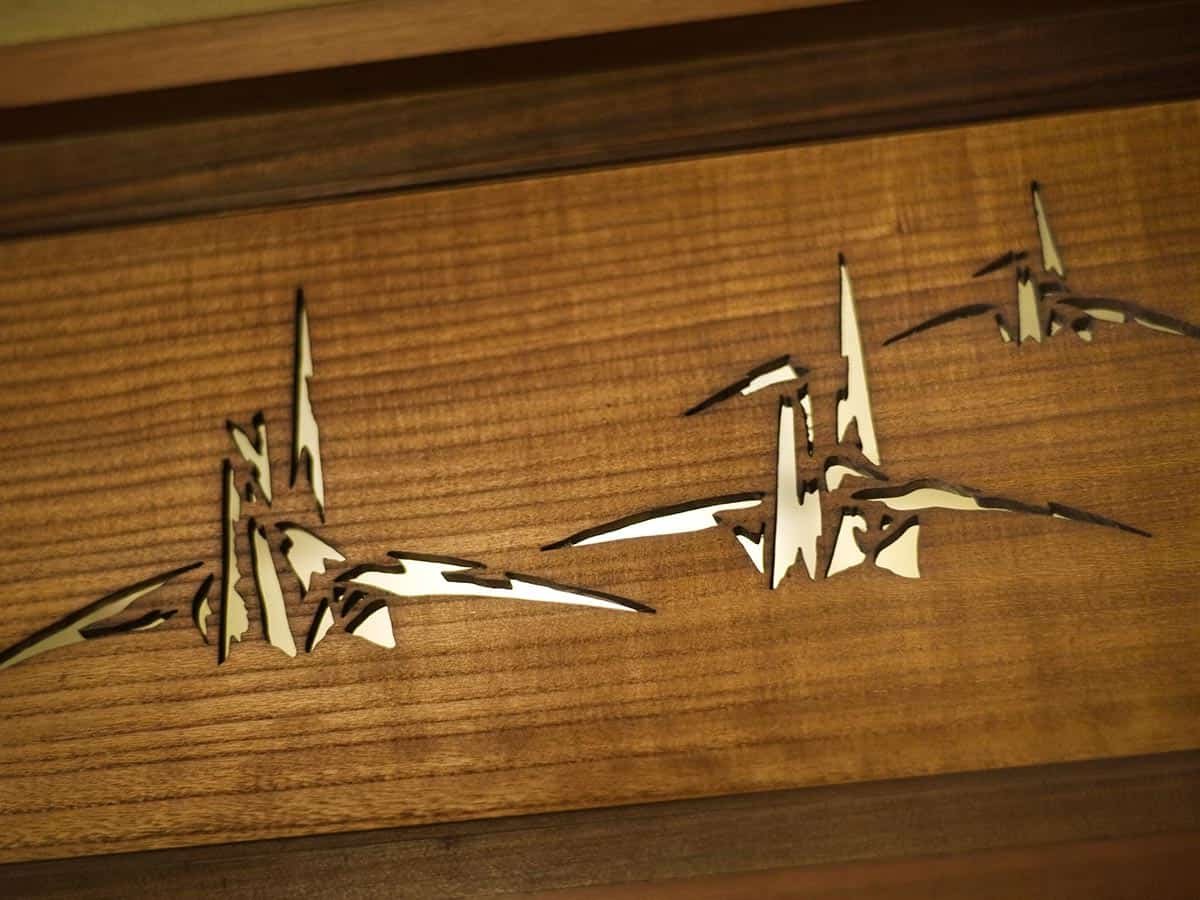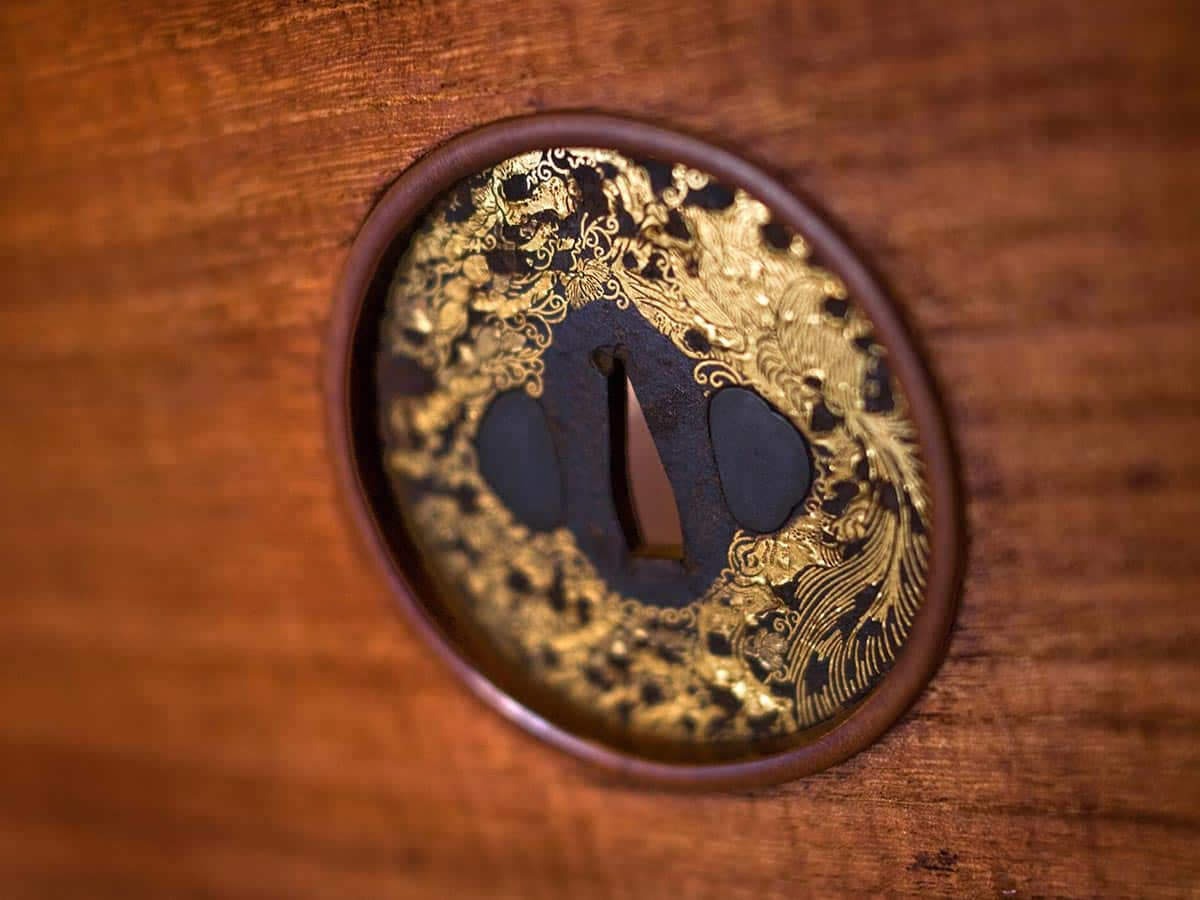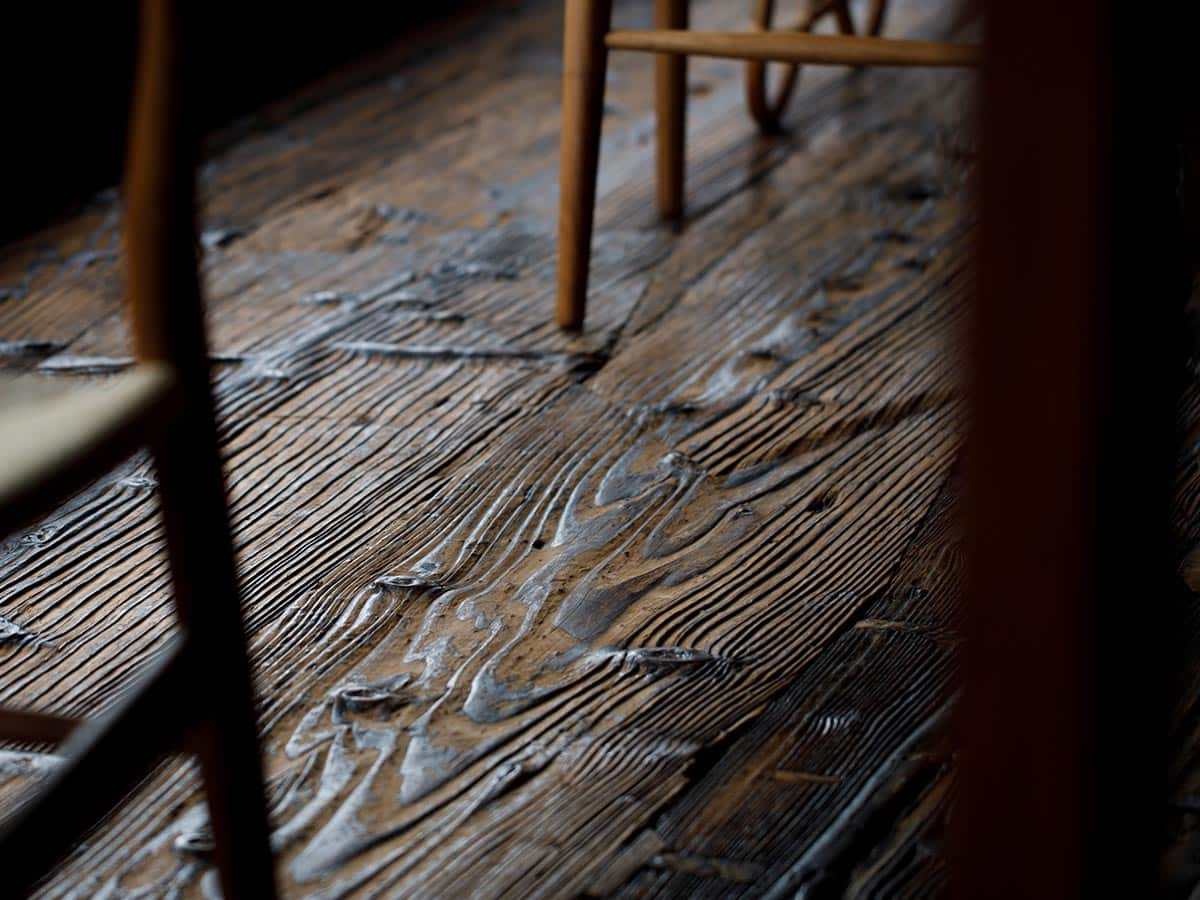 Feel the sophistication of Kanazawa culture in this finely crafted room.
This room is elaborately designed with carved wooden panels and finely crafted origami-crane patterns. The alcove is layered with sword guards from a family in the Muromachi period. No one could imagine that it was built in the Taisho era. The boards that are used for the veranda were recycled from a Kitamae ship in the Edo Period. The sliding doors are covered with works by famous poets and painters who used their skills as a way to pay for their meals.
Tsuki-no-ma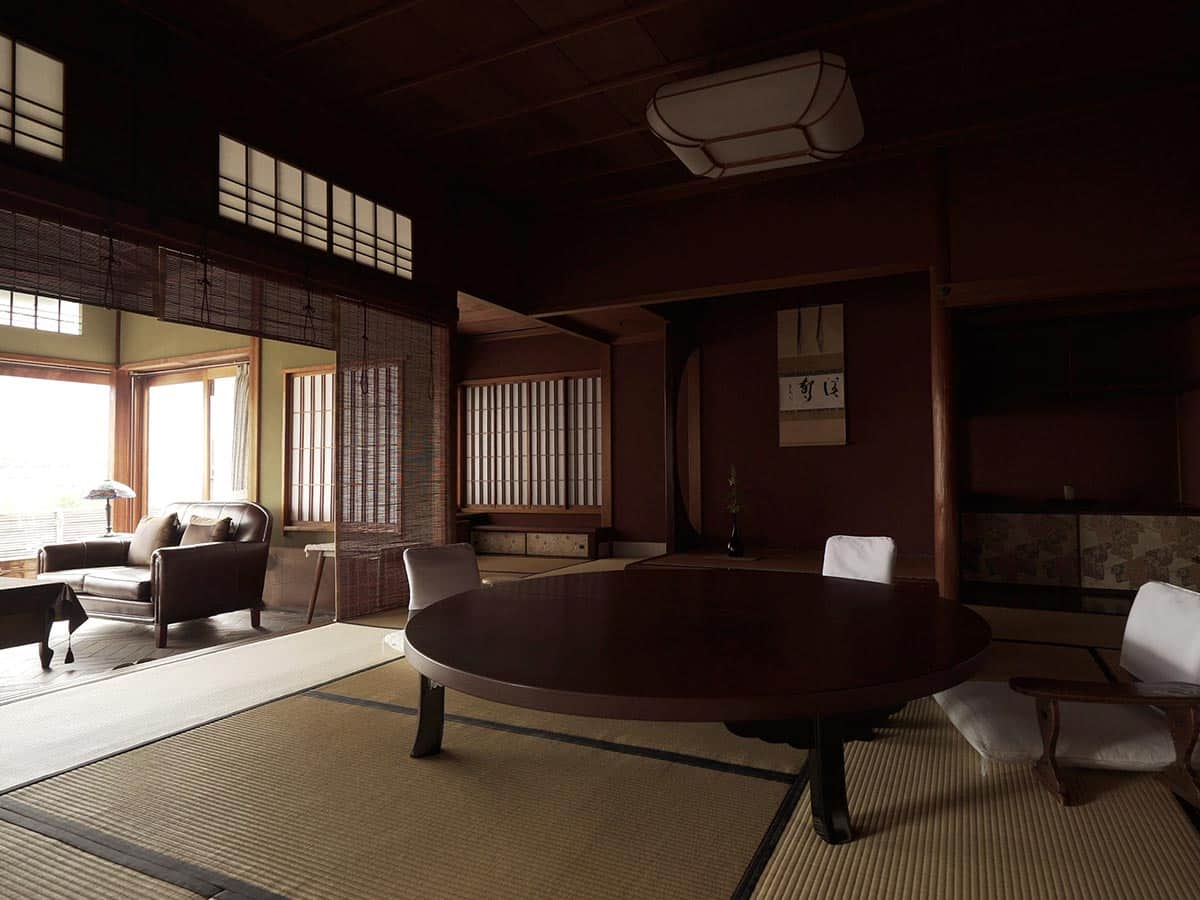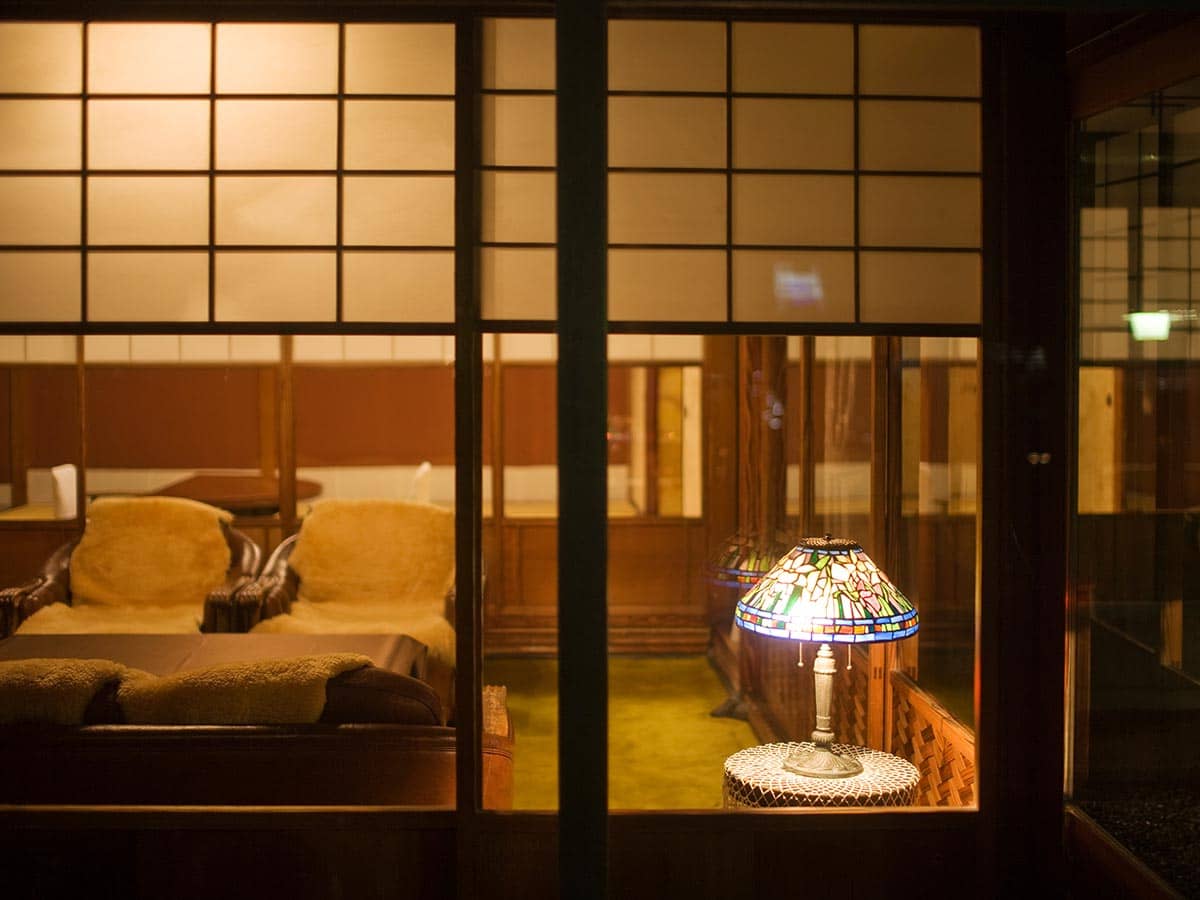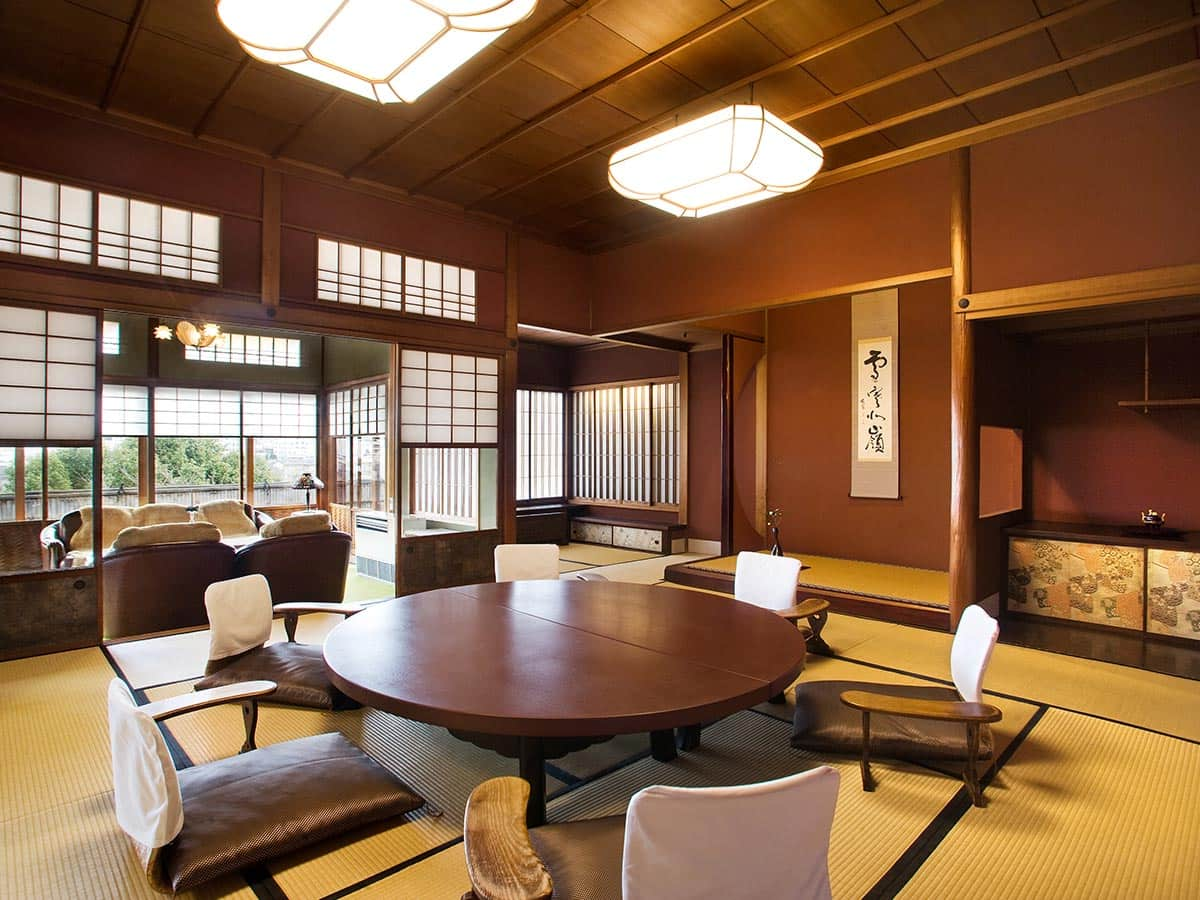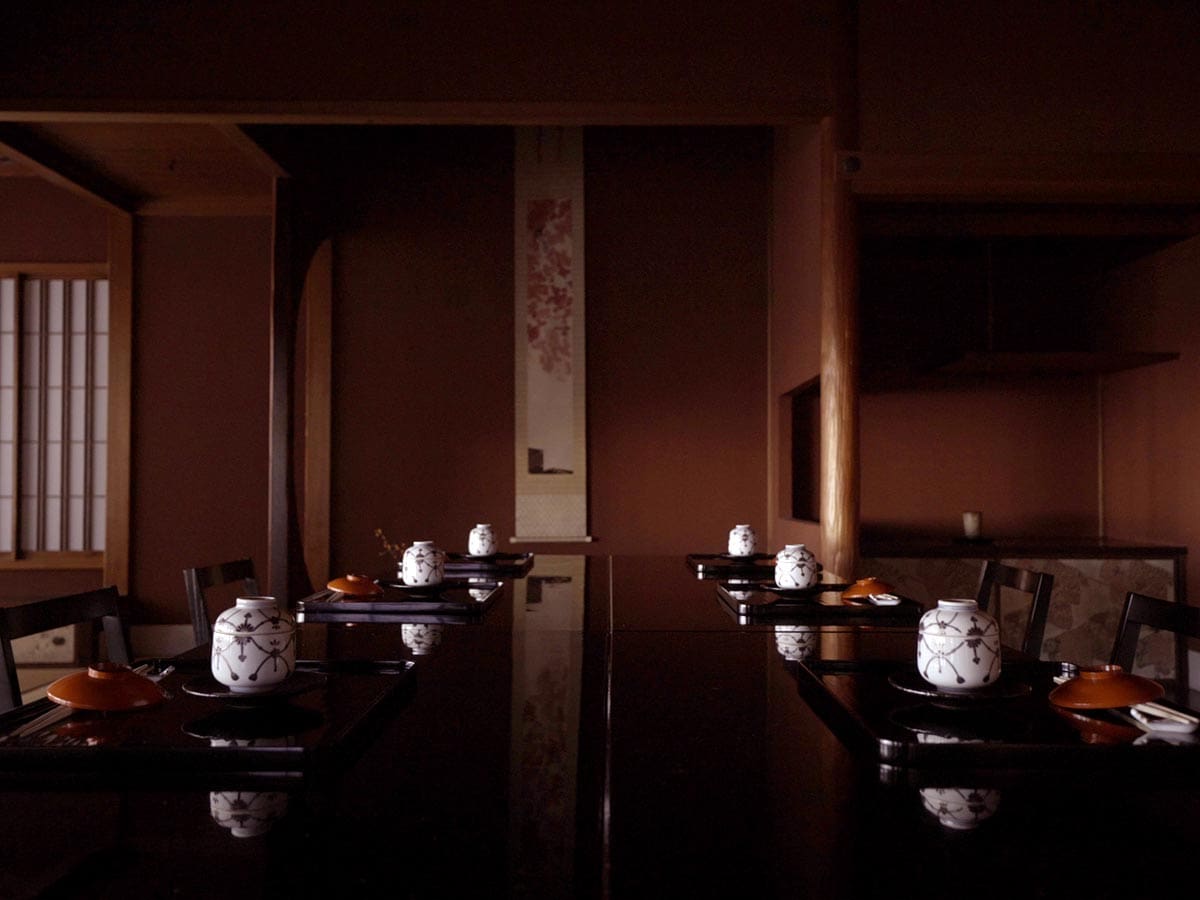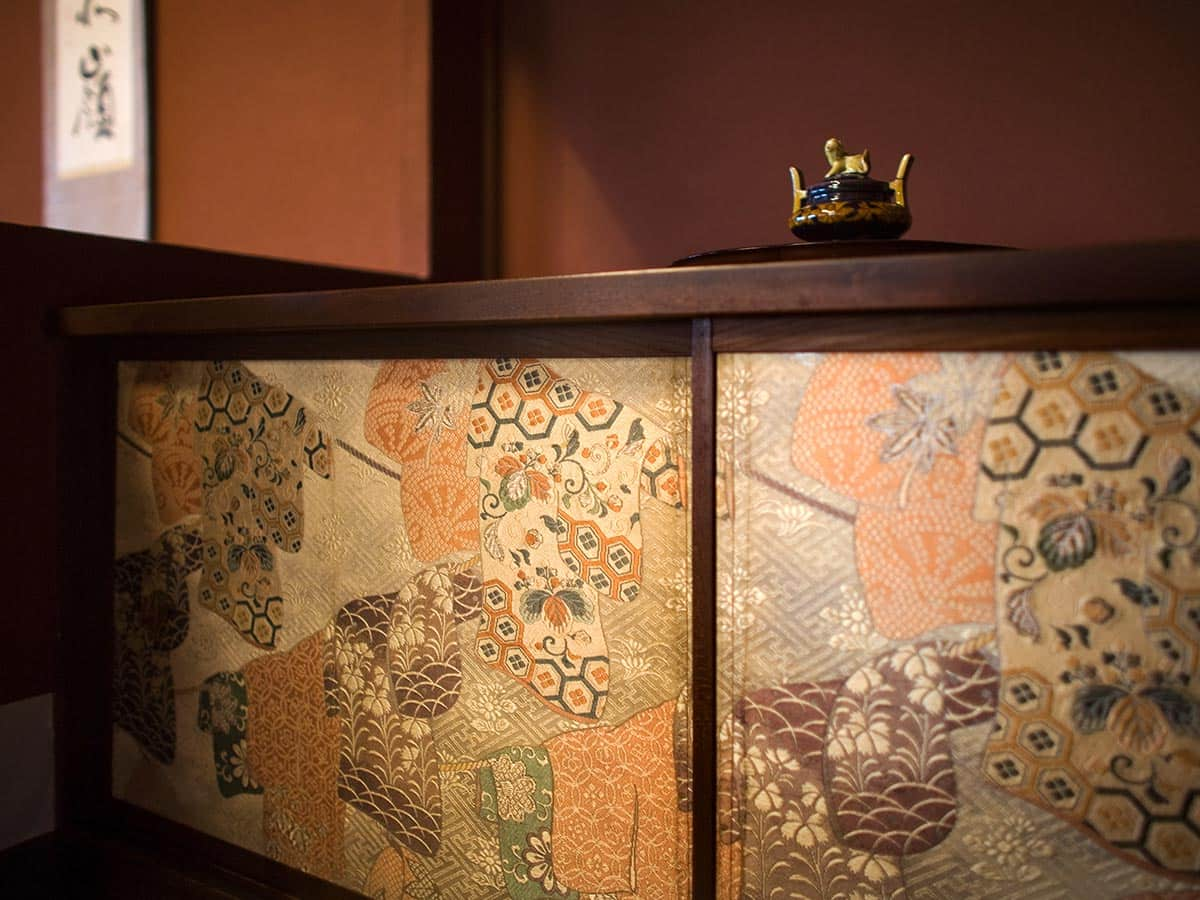 It is said that the former prime minister, Hirobumi Ito, was fascinated by this room.
This is the room in which many politicians, writers and artists such as Hirobumi Itoh, Yukio Mishima, and Ryunosuke Akutagawa visited and dined in. Hirobumi Itoh, a former prime minister of Japan, stayed in this room. He was so impressed by the food, hospitality and view from window that he gave Tsubajin a calligraphy artwork on which he wrote, "Fukoh daichi roh", which directly translates as `the finest restaurant of scenic beauty`. This room is graced with elegant interiors done in a Kanazawa style which can be seen in its dark rouge walls, a storage cupboard decorated with obi sashes that belonged to the princes of the Maeda clan, and an elaborate veranda with a nightingale floor.
Kikunoma, the Room of Chrysanthemums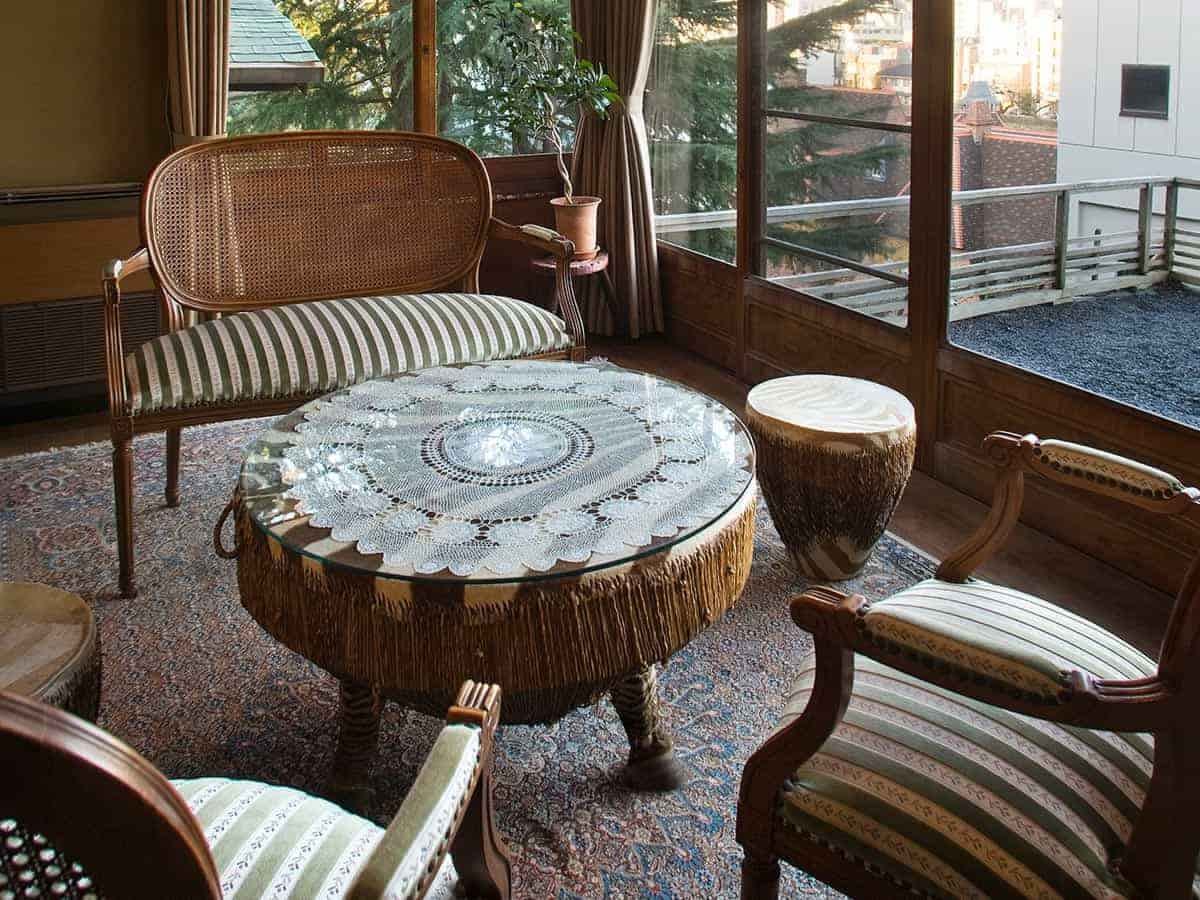 You can feel the atmosphere of the castle town of Kanazawa in this room.
This room has conspicuous but noble dark rouge walls which create a relaxing and comfortable atmosphere. This is the only room in Tsubajin that has a foot-warmer set in the recess of the floor under the low table. Even aged people can relax and enjoy dinner here while staying warm and comfortable. The adjoining room has a Buddhist altar so this room can also be used for anniversary memorial services.
Koharu-an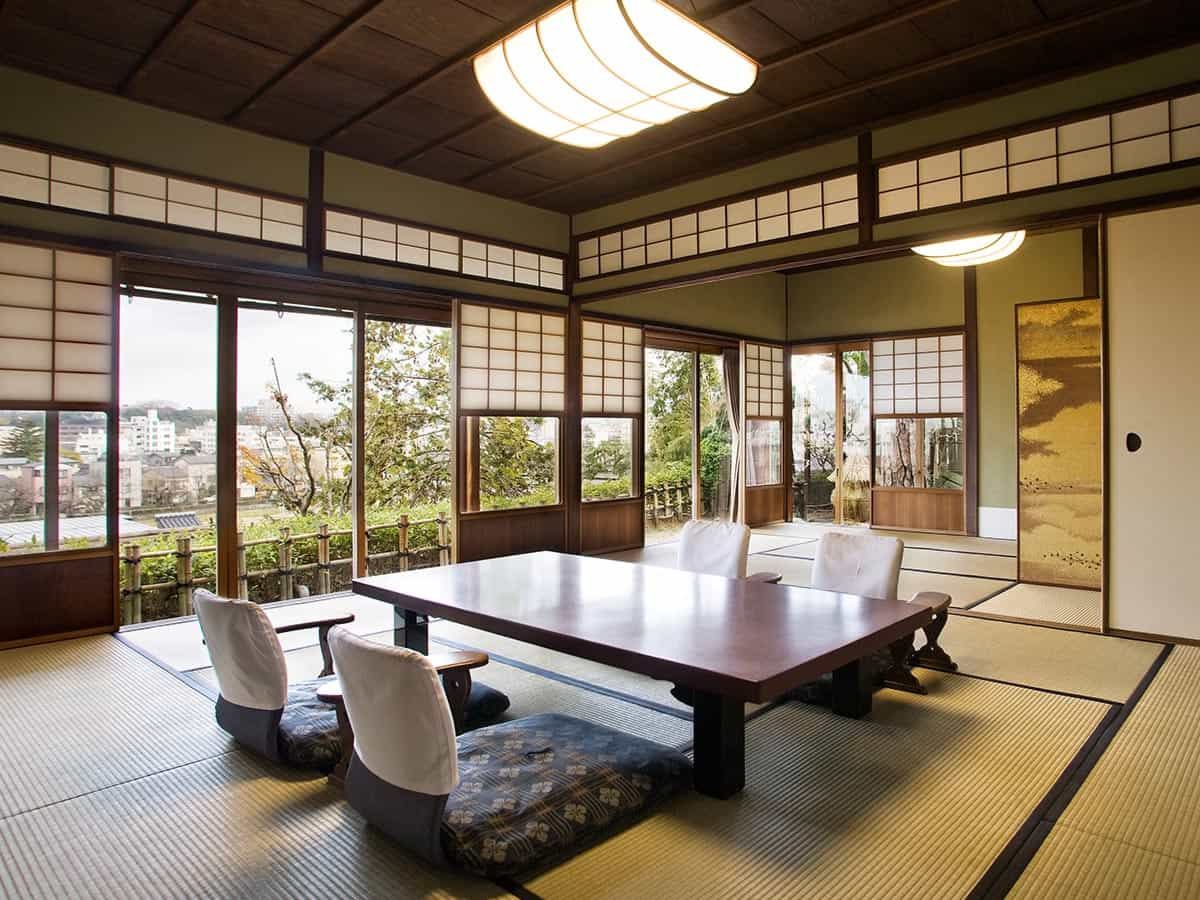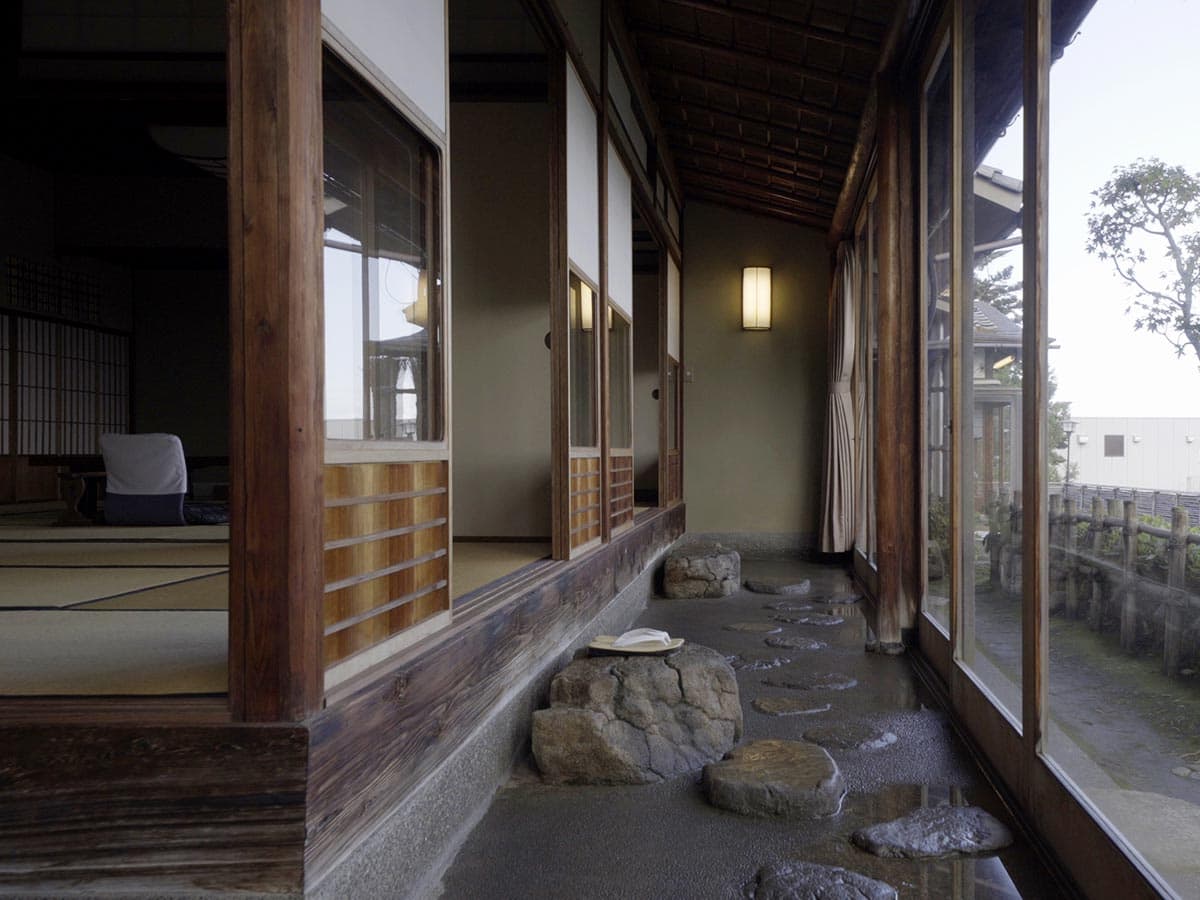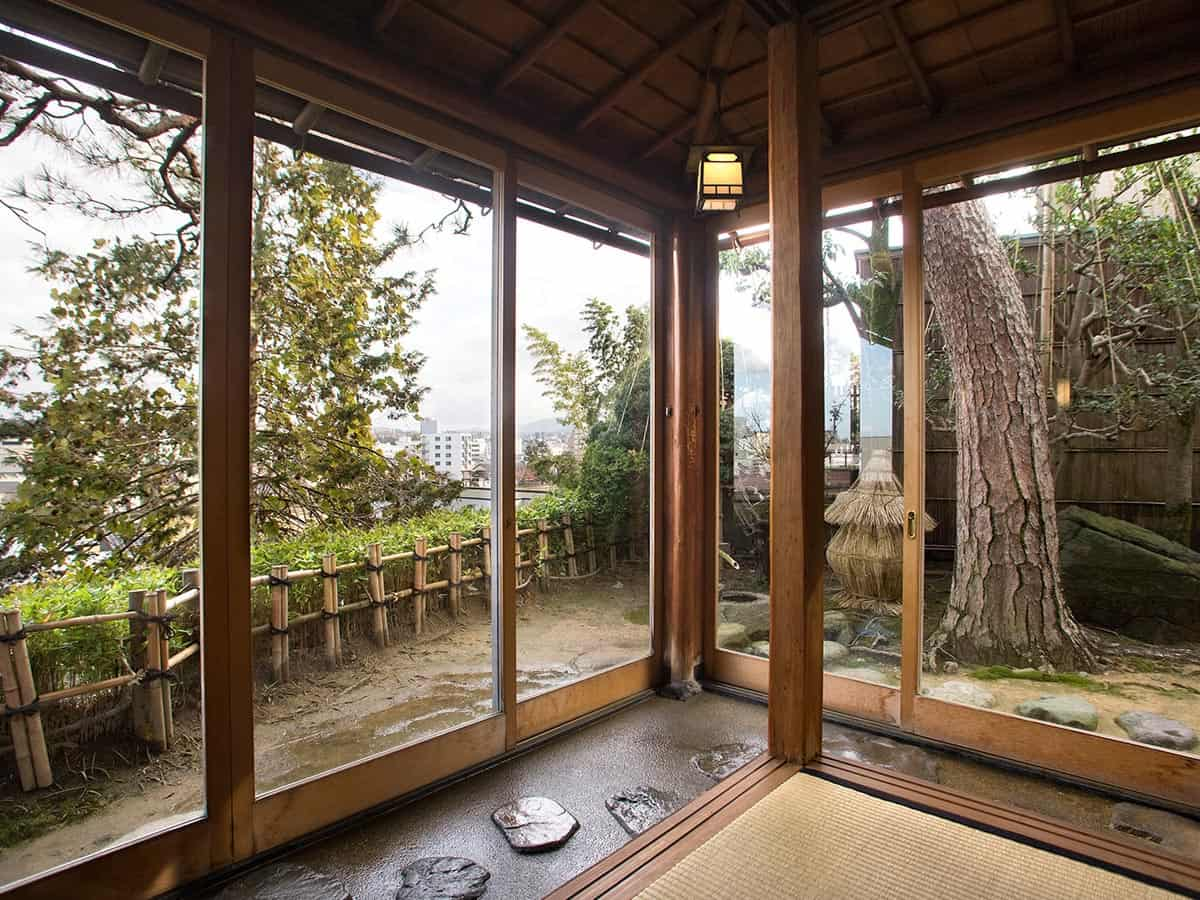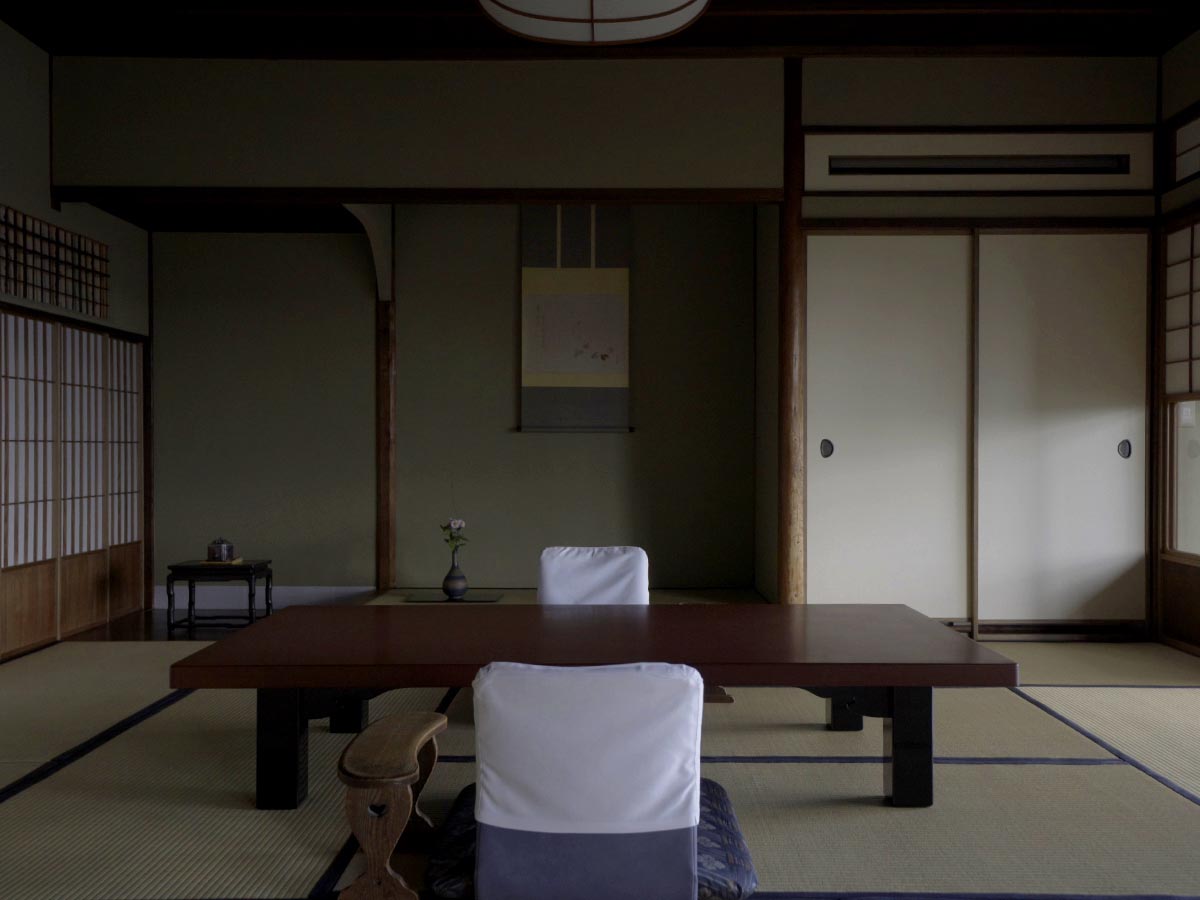 This is the room in which the famous poet Basho held haiku gatherings.
Basho Matsuo, a famous haiku poet, held haiku gatherings at a small inn called Koharuan when he visited Kanzawa during his journey in which he write his famous "Okuno-hosomichi" haiku series. This room was transported from its original place in central Kanazawa and reconstructed here. Opening our shoji sliding doors reveals an amazing view of lush green grass on the banks of the Sai river with Mt Iozan in the background that will take your breath away. In Spring, the cherry blossoms in full bloom that line the river are also truly spectacular. Kenichi, a scholar of English literature, loved this room. He was the eldest son of former Prime Minister Shigeru Yoshida and is famous for his book titled "Kanazawa".
Ginpu-no-ma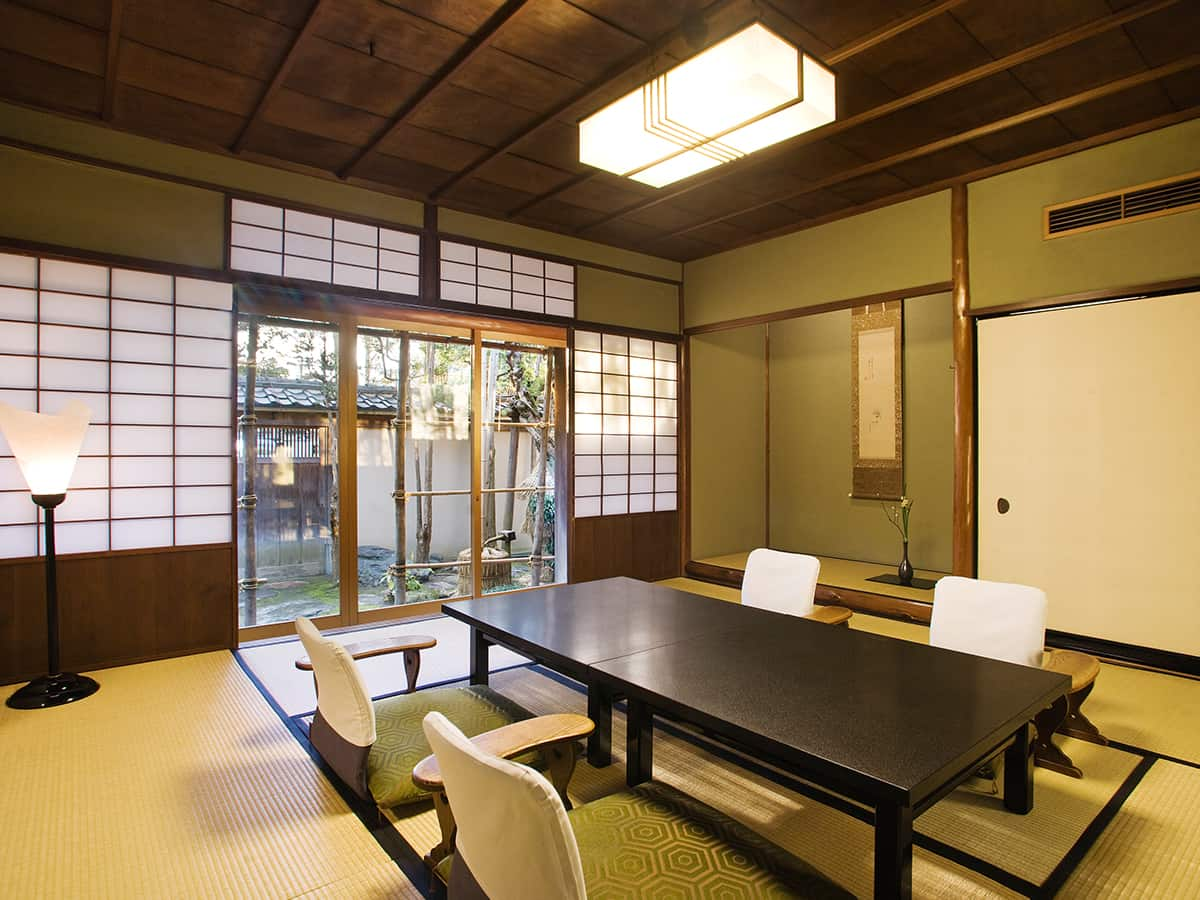 This is the room in which Basho stayed for nine days.
The room in Miyatakeiya inn that Basho Matsuo stayed in for nine days was transported from Katamachi, which is located in the center of Kanazawa, and reconstructed here. There is a Christian lantern crafted by Ukon Takayama, a prominent warlord of the Warring States period. An image of the Virgin Mary is carved on the foot of the lantern. Ardisia Japonica plants are grown outside the room. We take care of them for our guests so that they can enjoy their pretty red berries throughout the year.
Tea House Ze'an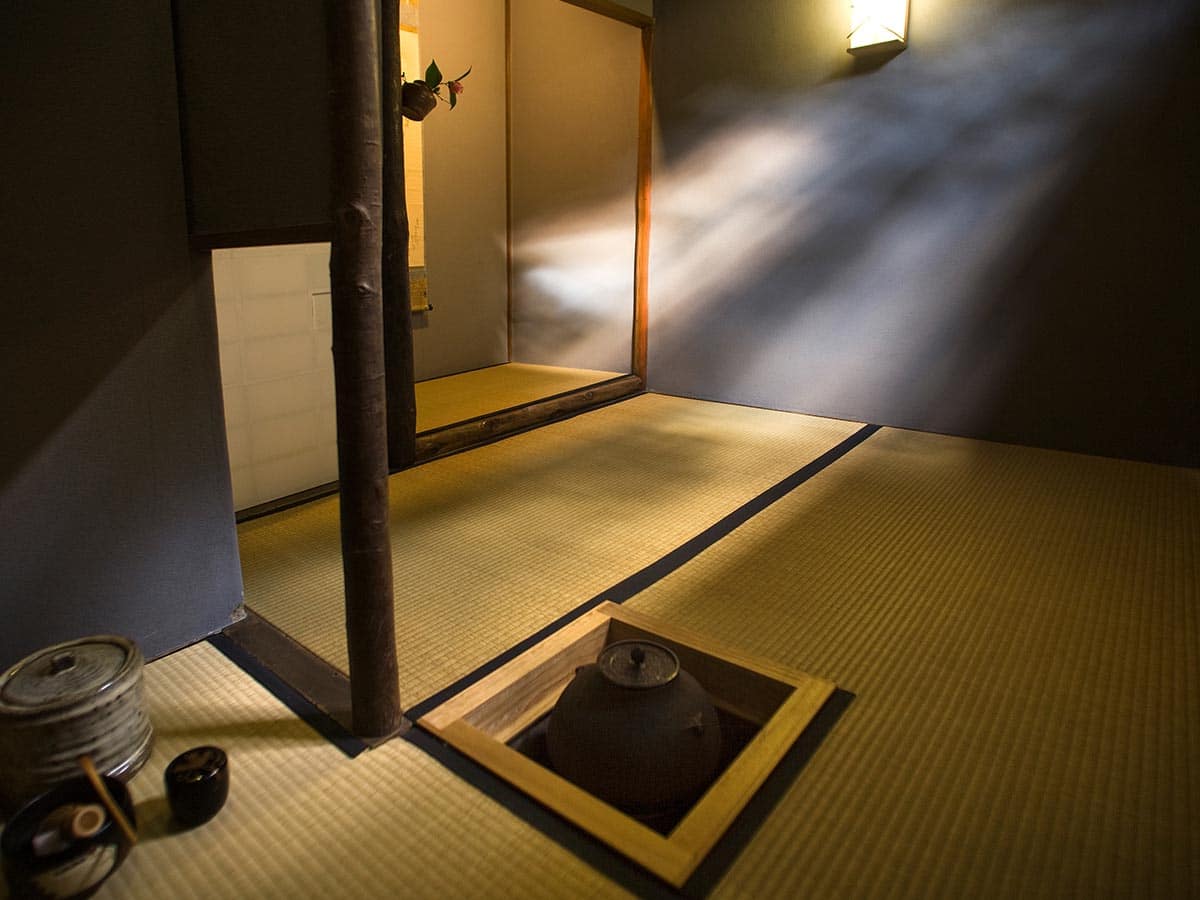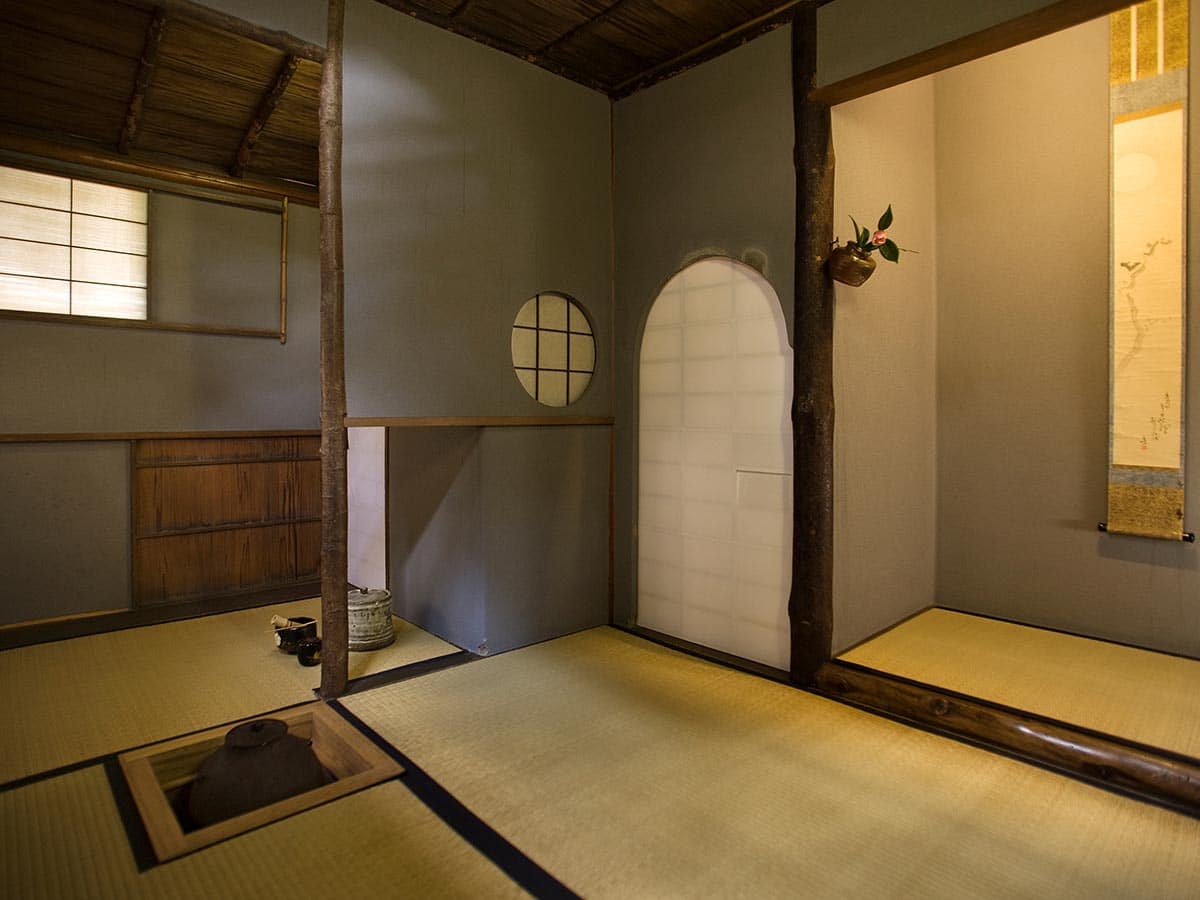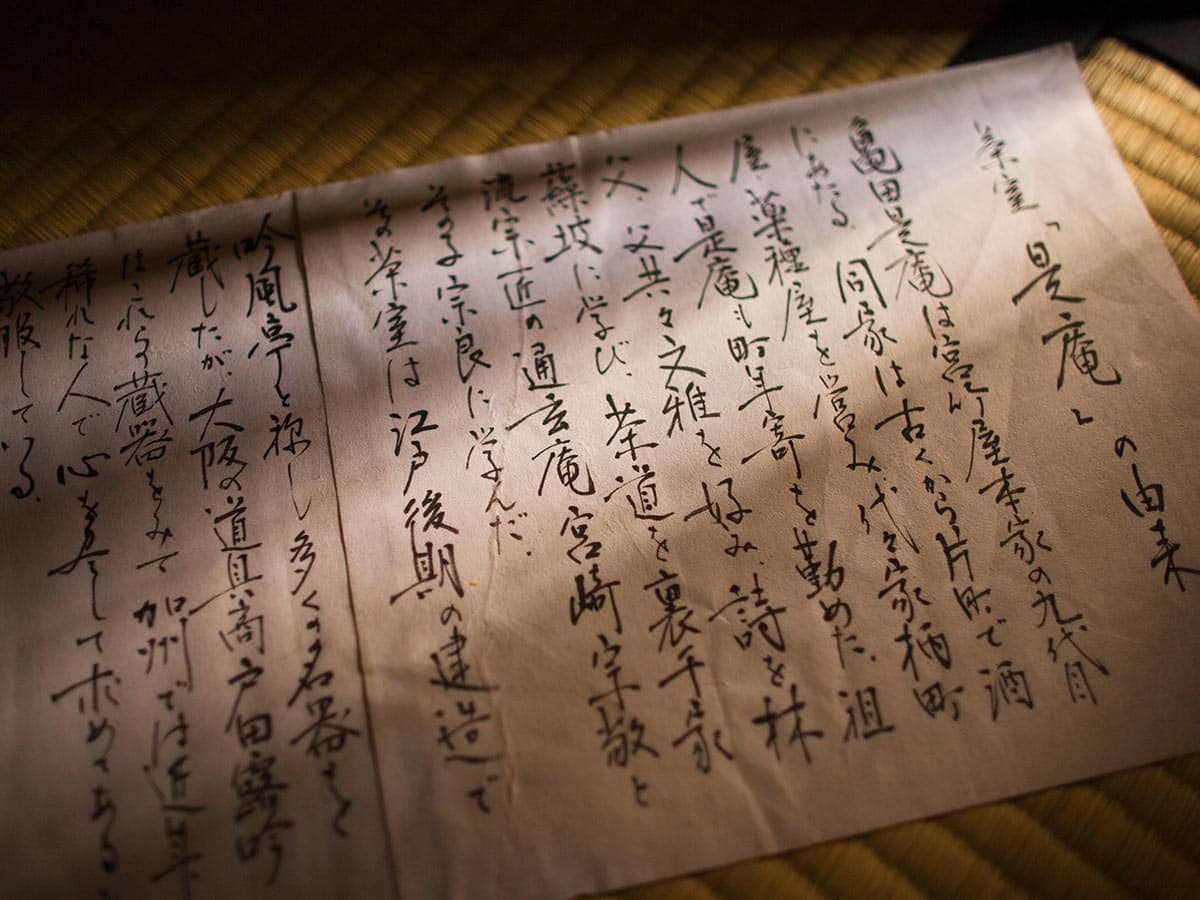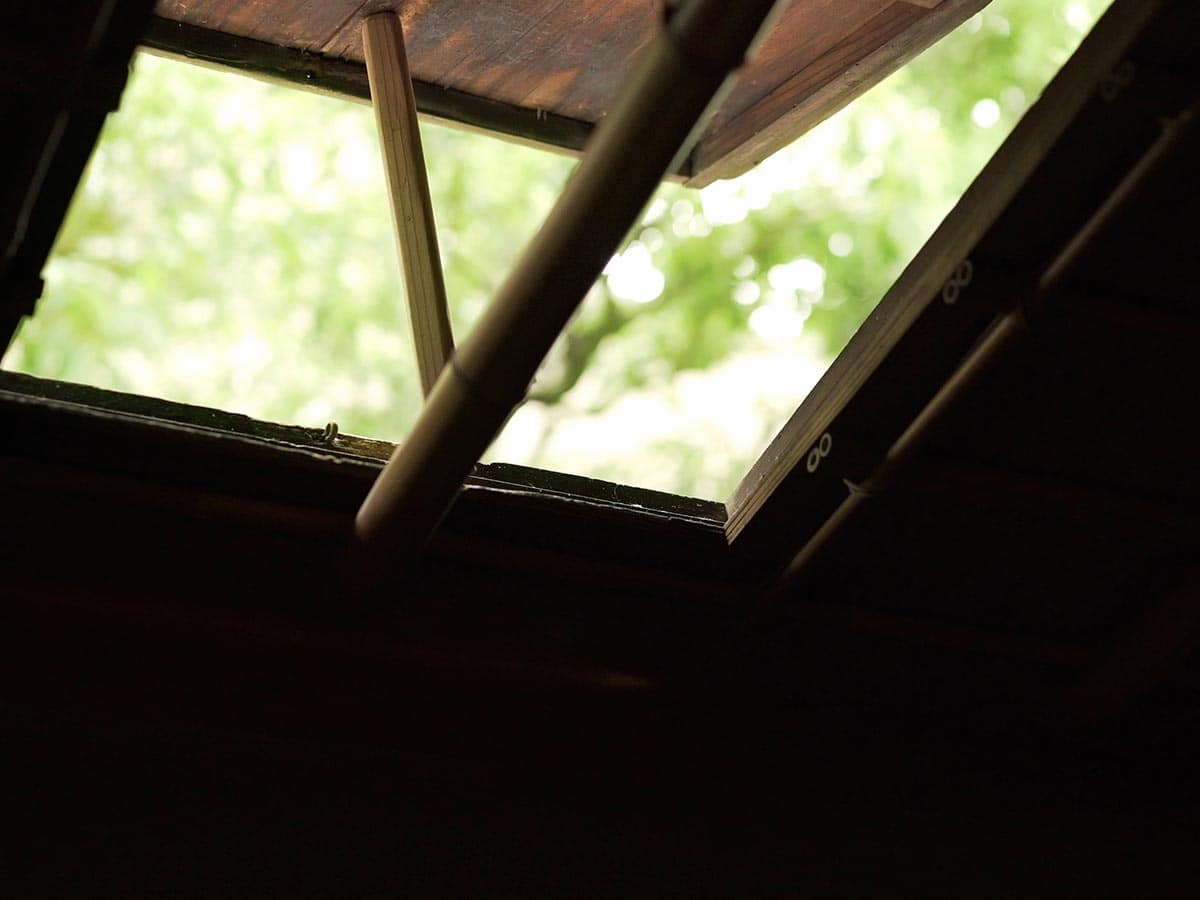 This is the tea house in which Ze'an Kameda, a tea ceremony master, held tea parties.
Ze'an Kameda, a famous tea master in Kanazawa, was also an apothecary (chemist) during the Edo and Meiji periods. He built a tea house modeled from "Fushian", a tea house of Omotesenke". It was transported here and reconstructed so that our guests can enjoy tea as it is meant to be enjoyed. 
Ume-no-ma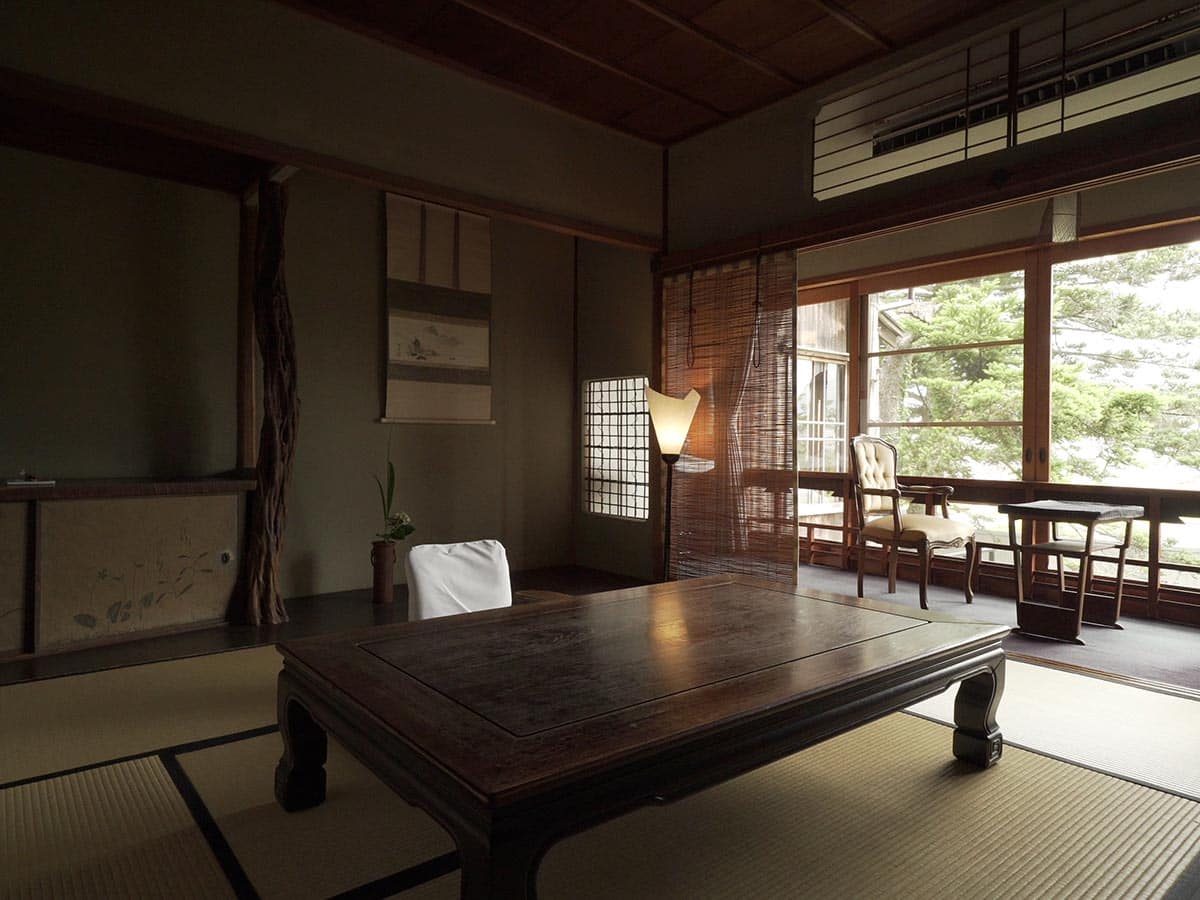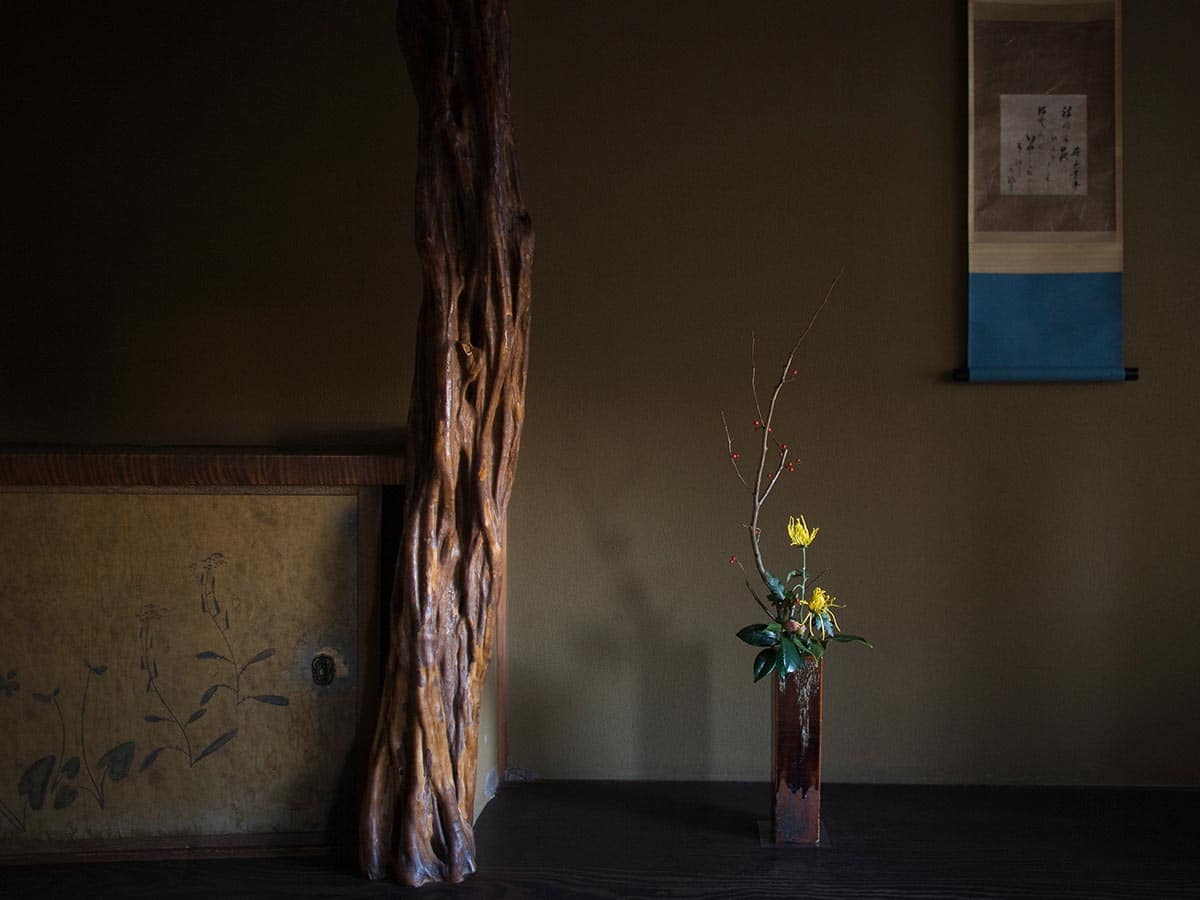 This room is the oldest room in Tsubajin.
This room was built at the end of Edo period. It is the oldest room in Tsubajin. The artisan's fastidiousness with detail brings the room to life. The pillar of the alcove is made from a pomegranate tree, which is quite rare. The calligraphy hanging in the room was written by Taikan Yokoyama. He wrote it during his stay with us. He was one of the most prominent calligraphers in Japan's modern art movement.
Take-no-ma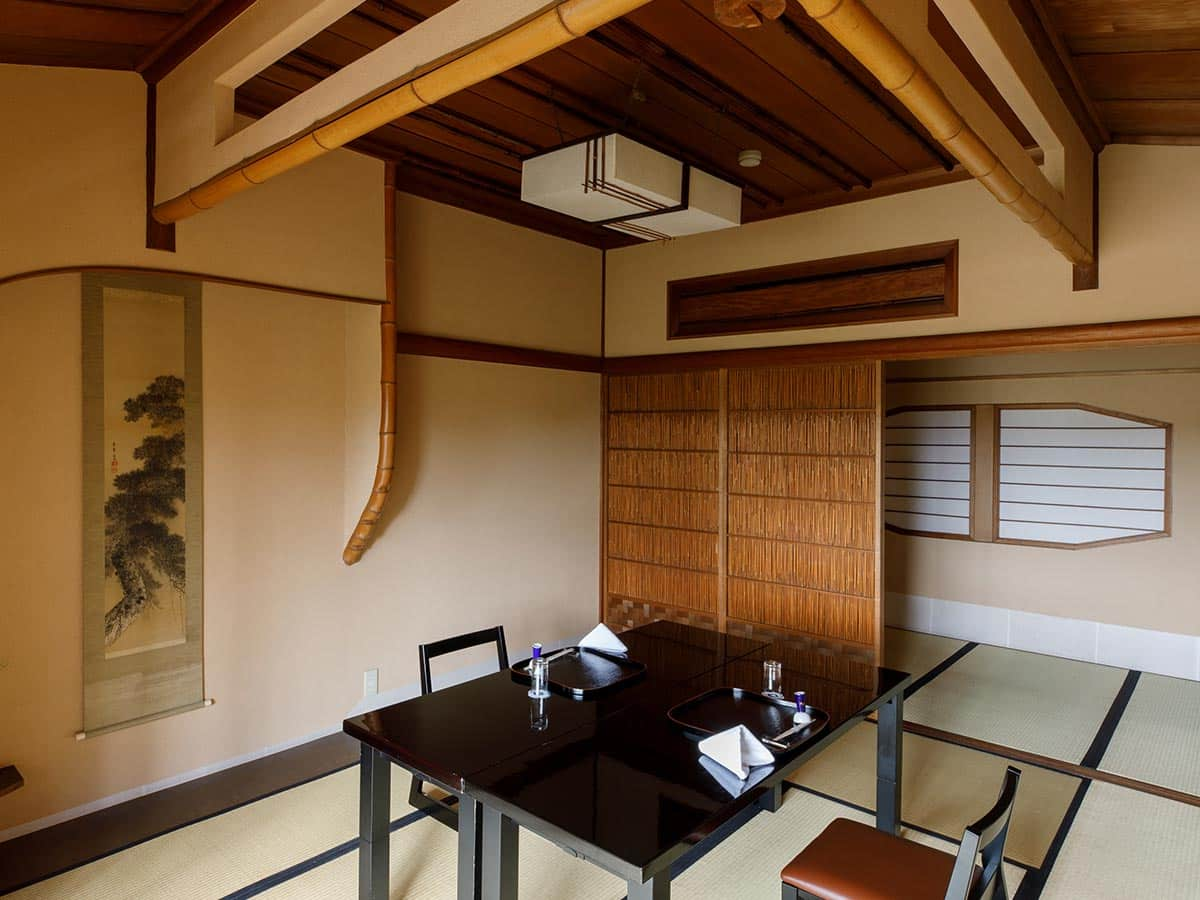 This room enables you to immerse yourself in the traditions of the Samurai world in the here and now.
This room was constructed in the manner of an audience chamber. Only important dignitaries were allowed to be seated here. Bamboo is used for the Otoshikake (pillar) of the alcove, as well as for the rafters of the ceiling. The curved lines of the bamboo soften the design of the room and bring a sense of comfort and ease. Enjoy your dinner while admiring the breathtaking scenery that shows off the beauty of Kanazawa and its four seasons.
Matsu-no-ma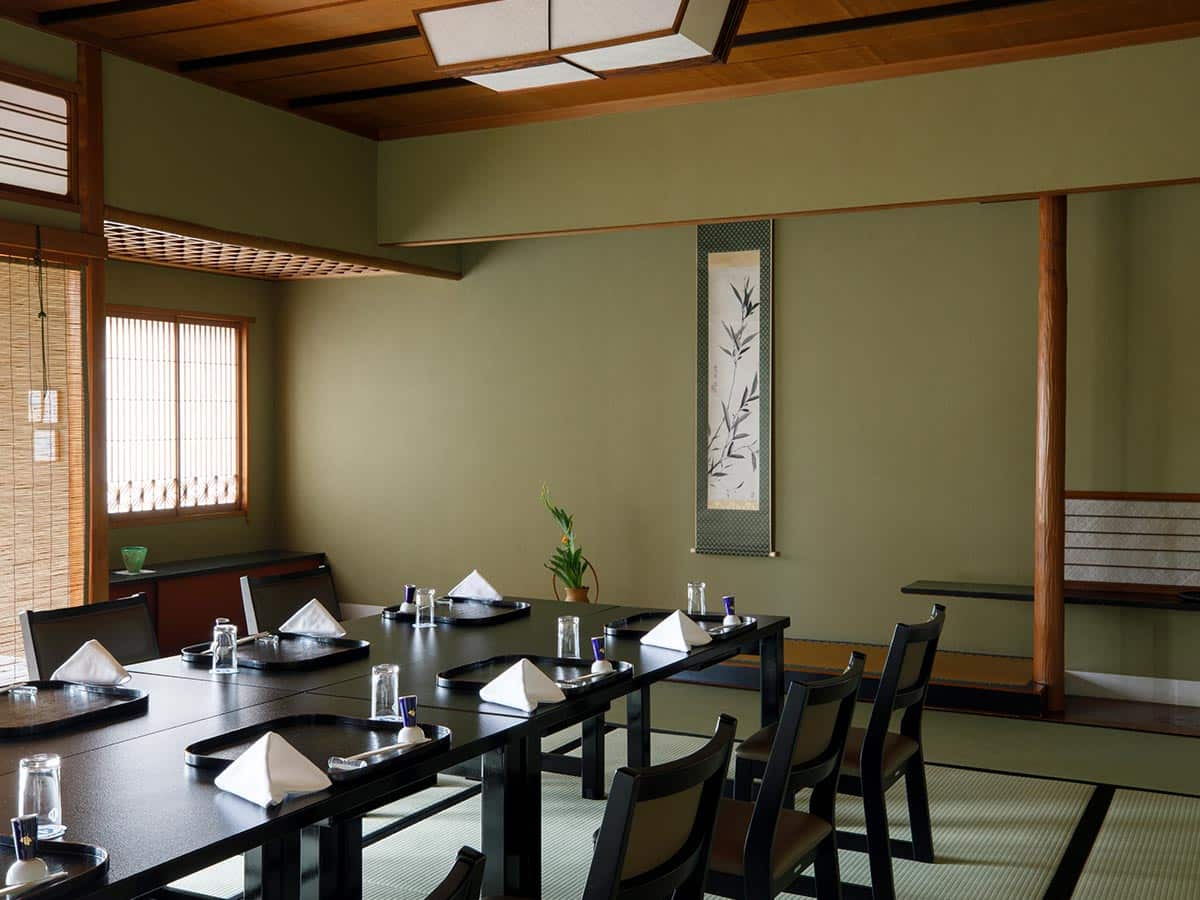 Kiyoshi Yamashita, a famous Japanese artist, once created a collage here.
This room was used by the American occupation forces as a dance hall shortly after World War II. This room is decorated with some famous artworks. Kiyoshi Yamashita, a famous vagabond artist, once stayed in this room. He was so inspired by the view of the streets he could see from the windows that he created a collage of colored paper. The room has another piece of artwork drawn by Hiroshi Oba, a manga artist who gained fame from his illustration of Otabe. The dining area of Matsunoma can accommodate up to 30 guests.
Hana-no-ma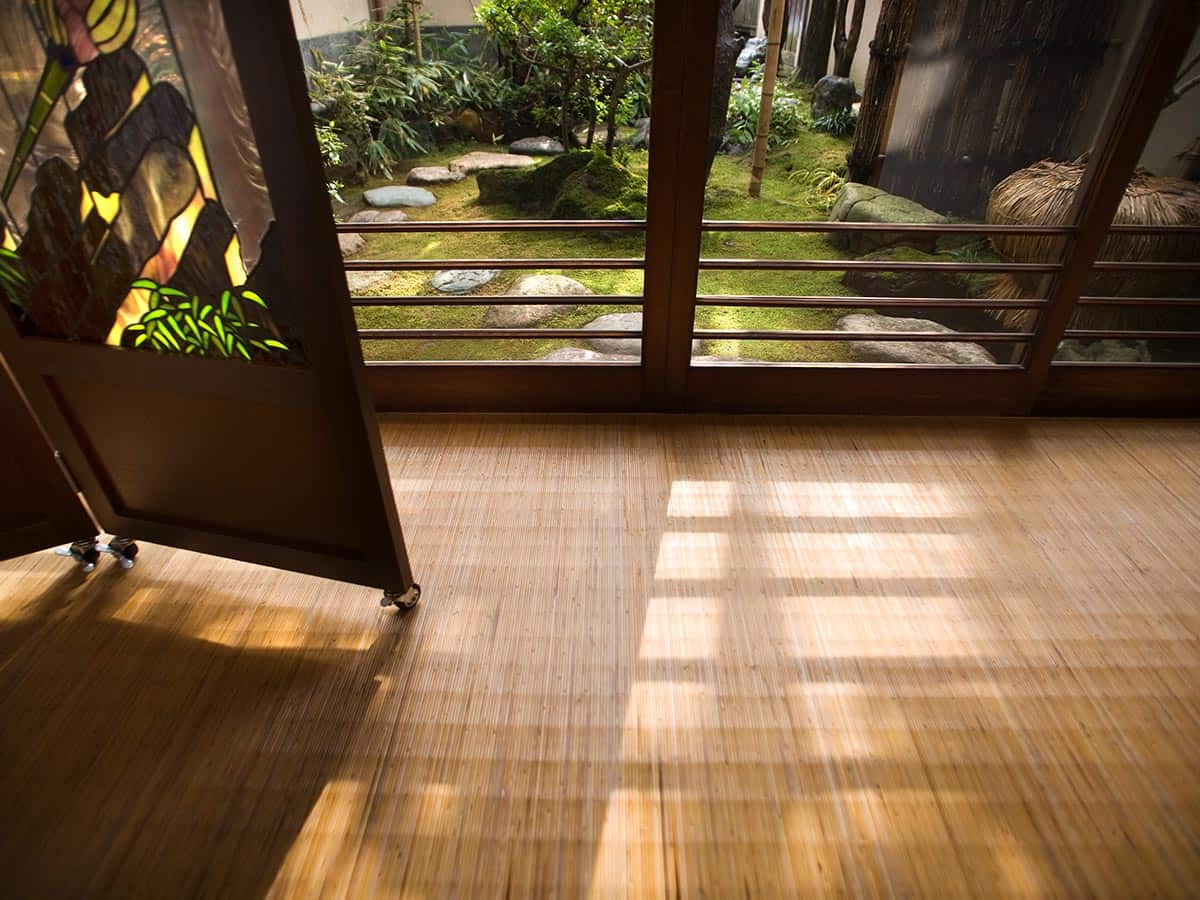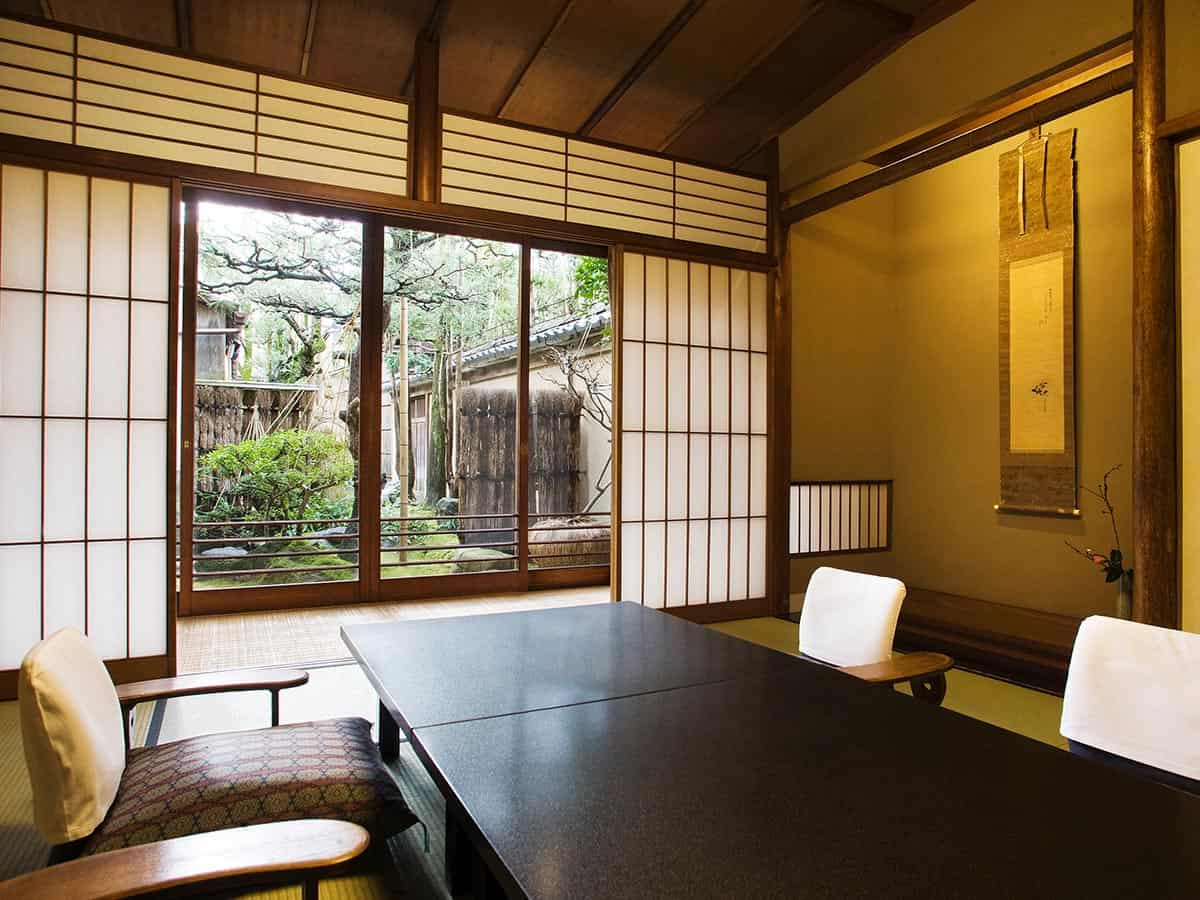 This is a room in which you can feel the essence of Japan.
This is a refined room in which you can enjoy a beautiful view of a lush Japanese-style green garden. A famous vagabond artist called Kiyoshi Yamashita once stayed in this room. This room can also be used as a bridal antechamber. It is equipped with western restroom facilities.
Tomuro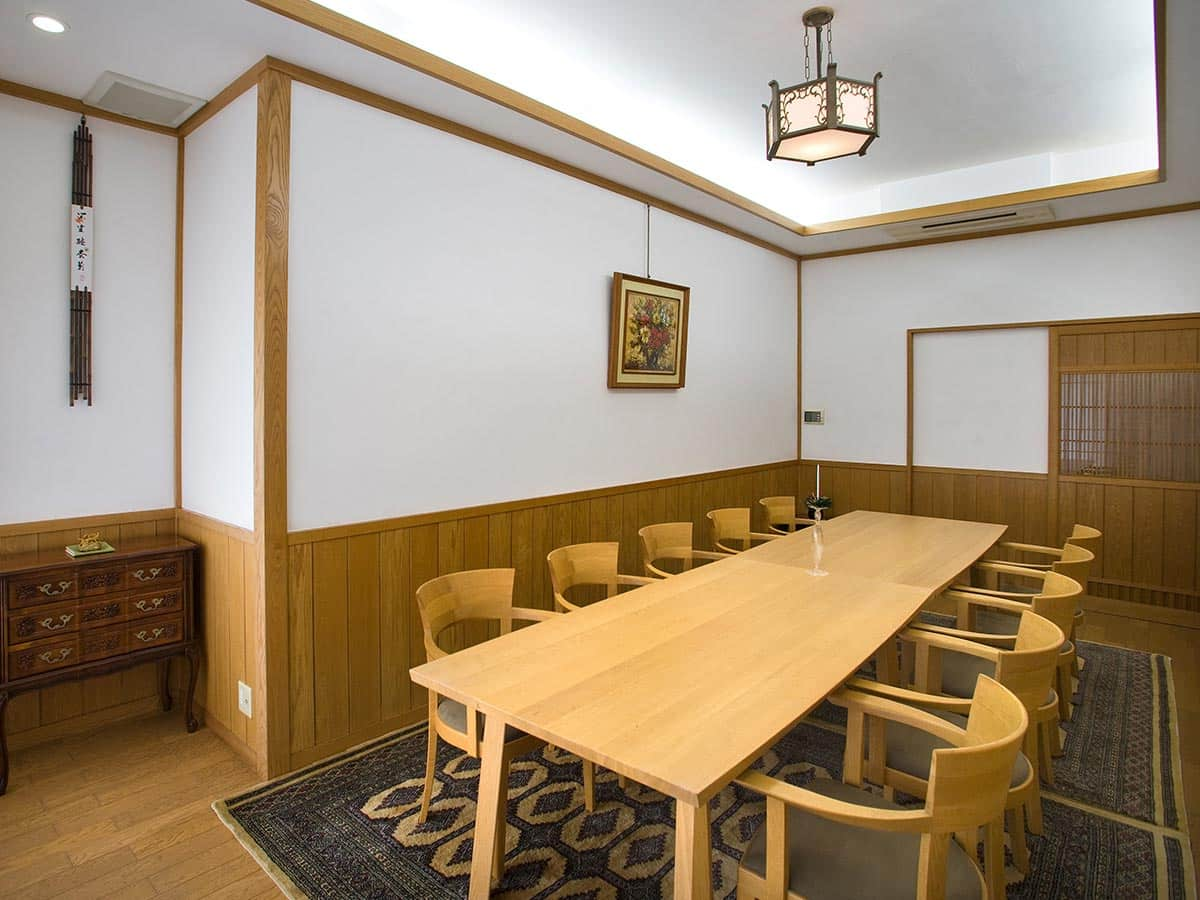 A simple room without any distractions for business meetings.
This room was used by the American occupation forces after World War II. The uniquely shaped lighting is from the original room. This room is suitable for small intimate business meetings.
Sumire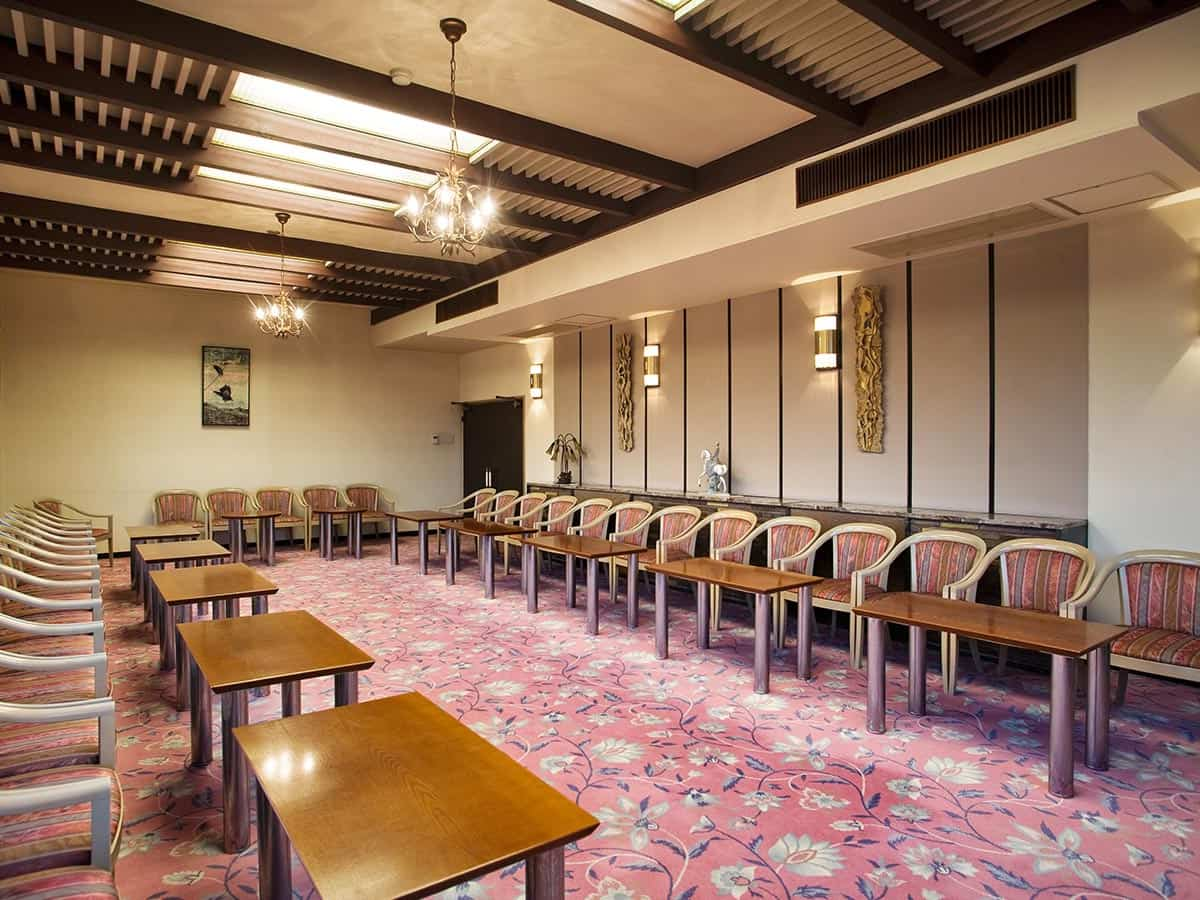 This western-style room from the Taisho period enables you to have an amazing time in a modern atmosphere.
This room uses a modern Japanese style from the Taisho period. It can be used as a venue for wedding ceremonies or conferences.